BOSTON — The ceremonial pitches at Fenway Park on Saturday were thrown out by Dr. Louis Zamperini, a 1936 United States Olympian, and Julia Ruth Stevens, Babe Ruth's daughter, in keeping with the nostalgic theme of the Boston Red Sox–Chicago Cubs weekend, with the teams meeting in Boston for the first time since the 1918 World Series.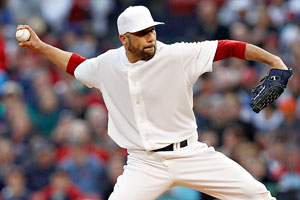 The teams wore throwback uniforms, the types worn in 1918. The Sox's uniform was all white with nothing on the front of the jerseys. Numbers were on the back. Numbers were not on the uniforms backs in 1918, so this was a bow to the present identification of the players.
Boston's hats were all white, again with no team insignia.
Each member of the Sox will sign his uniform, which will be auctioned to benefit the Red Sox Foundation.
While David Ortiz wasn't a fan of the throwbacks ("I don't like it," he said. "I'm not used to those, but it's OK, I guess."), others enjoyed the change.
"I thought it was a cool look," Jed Lowrie said. "For all the things we do during the year [with uniforms], I think this was a pretty good one."
The Cubs' uniforms were gray with blue lettering and numbers. The "C" on the jersey was rectangular in shape with the rest of the team's name — "ubs" — in block letters.
"I always like the throwback uniforms," Carl Crawford said. "I like the baggy pants and the old-school look. You can see – I'm taking my hat home."
Also, in homage to the 1918 Series, the video message boards are to be dark during the third inning. No music is going to be played as the batters walk to the plate, and two people each with a megaphone will be stationed in the walkway between the Field Box and the Loge Box seats, announcing the hitters in the inning.